Water heating systems that will meet your tough demands, day after day.
Whether your energy source is steam, hot water, or electricity, Reyco Sales has the right product for your application. We invite you to find out more about our complete line of heat exchangers, tanks, and packaged water heaters available in single and double wall configuration.
Cemline
CEMLINE CORPORATION ® has manufactured tanks, pressure vessels, packaged water heaters, unfired steam clean generators, and replacement tube bundles to suit customer requirements since 1935. Our products are used for the storing and heating of water and liquids in plumbing and heating systems and industrial processes.

More Information
For more information about Cemline Heat Exchanger Products, click here to visit their website or contact us.
AIC
AIC Heat Exchangers is the premier manufacturer of speciality heat exchangers in Canada.
Advanced Industrial Components 
AIC is a manufacturer of heat exchangers and custom designed heat transfer, and heat recovery products.
AIC values engineering excellence. Their strengths lie in the high quality and fine craftsmanship of our products, the engineering expertise of our team, and our quest to continuously develop technologically new and exciting products. AIC's diverse product offerings are installed worldwide.
Please visit the website to see all the products.
Stainless Steel Shell and Coil Heat Exchangers
JAD shell & coil heat exchangers are distinctly characterized by their angular connections, and by the circular layers of helically corrugated tubes within the shell. This unique design optimizes the performance and heat transfer efficiency of the units.
This line of heat exchangers is primarily designed for vertical installations. Combined with their compact size, the JAD heat exchangers can be installed in virtually any application where space is a constraint.
Applications
Heating systems
Chilled water systems
Groundwater systems
Residential use
Larger models of the shell and coil heat exchangers are designed to different parameters.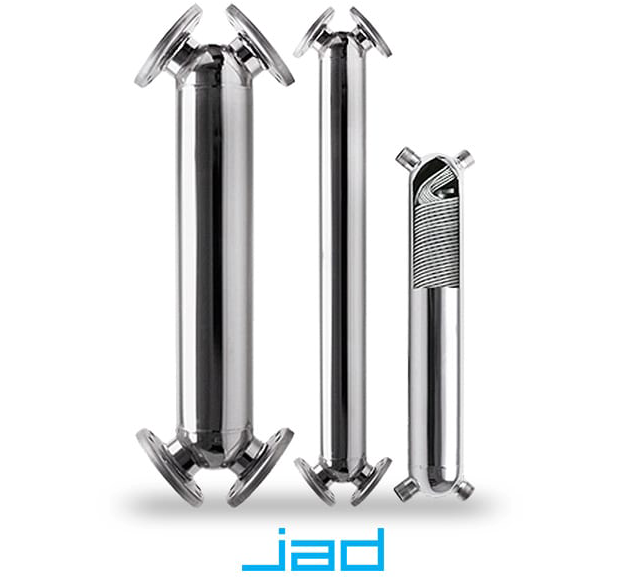 More Information
For more information about AIC Heat Exchanger Products, click here to visit their website or contact us.